Focus on Energy - Switch to Save
22nd January 2018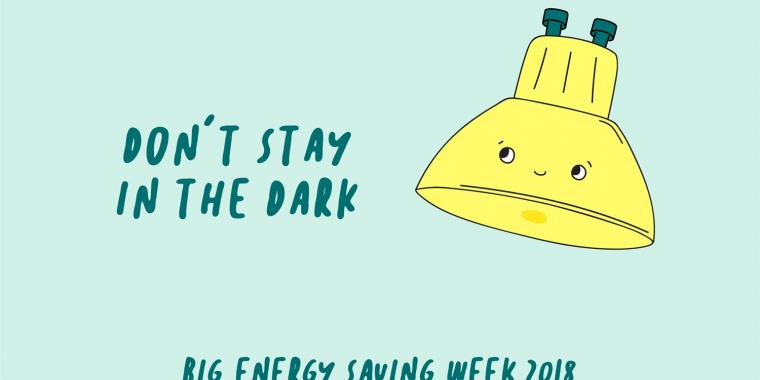 Written by Vanessa Lough
It's Big Energy Saving Week and we at Airdrie CAB are proud to be taking part! Over the week we will be offering helpful advice and tips over our website an social media as well as events throughout the community!
Affording gas and electricity bills can be a real worry for householders struggling on a low income. The choice between paying for food or paying for fuel is a stark reality for some householders. The latest available figures from Ofgem reveal over a million people in the UK owe money to their energy supplier.
In Scotland, 26.5% of households in fuel poverty with 7.5% in extreme poverty and are unable to heat their homes adequately to stay warm and healthy.
Household income, energy efficiency of the home, the price of fuel for heating, lighting, cooking and running appliances all can contribute to fuel poverty.
Identifying and assisting clients who are experiencing, or at risk of fuel poverty, is an important part of our advice work and underpins our involvement with national campaigns such as the Big Energy Savings Week and Energy Best Deal. The aim of these campaigns are to raise public awareness of how people can reduce their fuel bills by switching supplier or tariff, access financial support and make homes more energy efficient.
Switching energy supplier or tariff is a good way to save money and can reduce energy bills by about £250-£300 per year, it really can pay to shop around!
Getting a cheaper deal for gas and electricity is normally a straightforward process but we thought we would share some tips on finding a better deal and identify some of the issues or concerns raised by our clients.
Can I get a better deal without switching supplier?
Sometimes consumers are reluctant to change supplier, especially if they have been with the same company for several years. If they have been with the same company for more than 3 years, the chances are they are on a standard, variable tariff and could make substantial savings by switching to a fixed-term contract.
If the consumer does not wish to switch supplier it is really well worth checking with their supplier to see if they can offer a better tariff.
Simply switching to a better tariff can considerably reduce fuel bills.
How can I check for a better deal if I can't use the Internet?
Although using a price comparison website is the quickest and easiest way is to check for a cheaper deal, around 800,000 adults in Scotland don't have the basic digital skills, access or confidence to use the Internet effectively. The increasing emphasis on offering discounts for 'paperless billing' and managing accounts online can further disadvantage those without digital access.
Some price comparison sites can be contacted by telephone and will help customers find a cheaper deal. Most suppliers will also offer paper billing and it is important to get the right deal to suit individual requirements.
What information do I need to find a better deal?
To check for a better energy deal, the following information is normally required. The information can be found on the annual statement or gas and electricity bill or by contacting the current supplier who can also provide an estimate of your predicted annual usage and cost.
Property postcode
Current supplier
Name of current tariff
Payment method
How much the energy has cost over the last year
Usage (in kWh) over the last year
Energy meter reference numbers MPAN (electricity) MPRN (gas) to the property
I owe money to my energy supplier, can I still switch?
If the consumer owes money for less than 28 days (e.g. the last bill hasn't been paid) the consumer can still switch supplier. The outstanding amount will be added to the final bill from the old supplier.
If the debt outstanding for more than 28 days, suppliers will not allow a switch to another company until the debt is resolved.
Sometimes debt can accrue due to a billing error by the supplier, such as an over estimated bill. The consumer may switch still switch supplier but will need to pay any outstanding amount.
Consumers with a pre-payment meter can switch supplier providing the debt does not exceed £500.00. The new supplier will transfer the debt on the meter with your new supply.
<h3>Check-switch-save</h3>
We are fortunate to have a dedicated team of specialist energy advisers who help our clients obtain a better deal for their gas and electricity all year round as well helping them with a wide range of energy-related issues. https://www.airdriecab.co.uk/energy-advice
Further information https://www.citizensadvice.org.uk/scotland/consumer/energy/energy-supply/