16th November 2021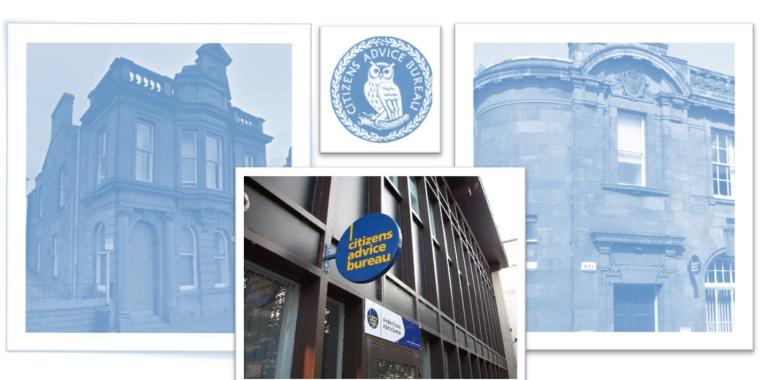 Airdrie Citizens Advice Bureau 1971 - 2021
Citizens Advice Bureaux first appeared in 1939, when over 200 were established throughout the UK. Bureaux were all governed by a Central Committee in London. The first Scottish bureau was in Glasgow, but further bureaux opened in Edinburgh, Aberdeen and elsewhere soon afterwards. During the war, more than 60 bureaux operated all over Scotland. The Scottish CAB Service celebrated its 80th anniversary in 2019.
In 1970, a meeting was held in Airdrie Police Court Hall, attended by representatives from various local organisations to discuss the setting up of a Citizens Advice Bureau to serve the people of Airdrie. Airdrie Citizens Advice Bureau, subsequently opened on Monday 15th November 1971. Only nine months earlier, on the 15th February 1971, the United Kingdom decimalised its currency! The bureau was originally based in the Parochial Board Offices in North Bridge Street. In 1984, the bureau moved to new premises in Anderson Street. After some 36 years, in September 2020, the bureau relocated to new offices in Stirling Street - the former SEEB Showroom. It was designed by the South of Scotland Electricity Board in 1961 and "exhibits bold use of a laminated timber portal structure from which hangs the roof".
Governance of the organisation was at the outset led by a committee of management, subsequently a board of directors, which initially drew its membership from local statutory & voluntary organizations & members of the public. Over the past 50 years, fourteen individuals have held the post of bureau Chairperson.
Bureau Chairperson 1971 - 2021
Mr Hood
Mr Moore
Mr McIlduff
Mr J Logue
Mr Gordon
Mrs Ramsey
Miss Innes
Ms McAllister
Rev. A Keddie
Mr Stewart Bone
Mr Gilbert K Cox CVO MBE
Mr James Armstrong
Ms Karen Whitefield
Mr Stewart Bone (2nd Term)
Mr Ronnie Miles
Bureau Organiser/Manager/CEO 1971-2021
Originally, the management of the bureau was undertaken by an Organiser, an unpaid position. Our records show that the following indviduals have led the bureau over the past 50 years.
Mrs McLaughlin
May Brunton
Miss Lee
Jim Kelly
Mrs Rockland
Mrs Cummings
Jim Kelly
John Dobbin
Eileen McKenna
Deirdre A Watson
Jonny Miller
Aaliya Seyal
Vince McKeown
An Evolving Service
The town of Airdrie has changed since the bureau opened 50 years ago, but like all Citizens Advice Bureaux, Airdrie CAB strives to ensure that individuals do not suffer through lack of knowledge of their rights and responsibilities, or of the services available to them, or through an inability to express their needs effectively and, equally we seek to exercise a responsible influence on the development of social policies and services, both locally and nationally.
All at the bureau look forward to another 50 years of providing free, confidential, impartial and independent advice to the residents of Airdrie.